Palio Festivals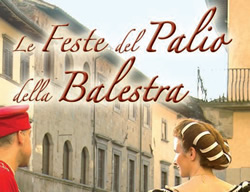 Sansepolcro is famous as the birthplace of Piero della Francesca, and can be considered one of the most interesting examples of Renaissance cities, thanks to the elegance and beauty of its architecture. In September every year, the "Town of Piero" relives the splendid traditions, atmosphere, arts and crafts of the Renaissance.
The colours, sounds, flavours and sights of September give rise to ever-new excitement, and visitors are bound to be enchanted by the splendour of these prestigious cultural and folkloric occurrences.
Events Program
Wednesday
31 August 2022
OFFERING OF WAX
17:30 at the Cathedral of Sansepolcro, with procession in and out.
Thursday
1 September 2022
PRESENTATION OF THE PALIO
18:00 The Palio della Balestra® is presented
Thursday
1 September 2022
PALIO DI SANT'EGIDIO
21:00: the traditional Palio of Sant'Egidio is held at the Luigi Batti shooting range beside Porta del Ponte.
Wednesday
7 September 2022
PALIO DEI RIONI
A public event at 21:00 in Piazza Torre di Berta, which initiates the traditional competition between the two quarters of the city: Porta Romana and Porta Fiorentina.
Thursday
8 September 2022
PROPIZIATORY CONCERT
At the Cathedral
Sunday
11 September 2022
PALIO DELLA BALESTRA ®
Following the heats in previous days and the announcement of the challenge in the morning by the Herald, the Palio della Balestra® takes place in Piazza Torre di Berta, starting at 16:00 with the procession and arrival in the square.
The Palio takes place from 17:00 to 19:30, and is followed by the traditional procession through the town centre in honour of the winner of the Palio della Balestra®.
Information
MUNICIPALITY OF SANSEPOLCRO

CULTURE DEPARTMENT
Tel. 0575 732283 - www.comune.sansepolcro.ar.it

TOURISM OFFICE
Tel. 0575 740536 - e-mail: info@valtiberinaintoscana.it